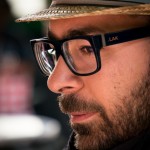 Welcome to my website. I am an enterprise architect at DHI Group and an external lecturer at IT University of Copenhagen. My work focuses on several aspects of software engineering, as much as the organizational, business, and human aspects that surround them. I have a special interest on Software Architecture, Software Ecosystems, and Health Informatics.
I have been part of the interdisciplinary SCAUT project that investigates the life condition improvement of patients with pacemakers and implantable cardioverter-defibrillators.
I have also been part of the 5K research project on Smart Cities. In this project we investigate the design and conditions of establishment of a Smart City software ecosystem based on fast-cycle development, privacy, and business-optimal solutions in the Kangas area of Jyväskylä, Finland.
Moreover, I have served as a technology consultant/advisor in a number of industrial projects with areas such as requirement engineering, software (system) design and implementation, medical device regulation, and software governance.
Moreover, I have been involved in the Net4Care and Connect2Care projects investigating the establishment of a software ecosystem for healthcare-IT and telemedicine infrastructures. For more information, download a copy of my PhD thesis here.